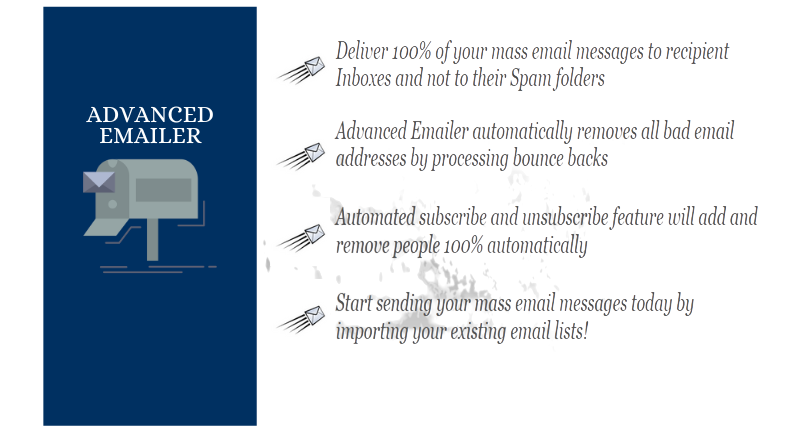 Regardless of the size of your business, whether it be small or large, communicating efficiently and effectively with customers and subscribers always presents a challenge. Announcing a new product or promotion can be time-consuming when reached out to each individual through phone calls or emails. And with a large customer database, even simple tasks such as sending invoices or tracking packages can become difficult. Advanced Emailer offers a compact and efficient solution to these and other communication challenges when interacting with your customers.
Advanced Emailer will automate the following tasks:
Alerting current customers and subscribers about new products and promotions.
Automatically sending invoices and tracking information to online customers.
Delivering daily or weekly newsletters and more to subscribers.
Multithreading:

Advanced Emailer employs a Windows multithreading technology, meaning that when a new email message is created, one of the available threads (determined by the user) will retrieve and send the message.
Multiple SMTP servers:

Emails are usually sent through an SMTP (Simple Mail Transfer Protocol) server, which is maintained by your internet provider. Most internet providers provide only one SMTP server, which is sufficient for most purposes. However, when you need to send a large amount of emails quickly, such as delivering financial bulletins to your users, using multiple servers can reduce the load on each server and decrease the send time. Advanced Emailer enables you to specify multiple connections and automatically balances the load evenly. It will also drop connections as needed if some servers are not responsive or busy.
Standard message formats:

Advanced Emailer supports all popular message formats, allowing you to create plain text, HTML, or use Microsoft Outlook Express to create a rich media content message or copy and paste a web page.
Macro substitution:

This feature allows you to create personalized messages for your users. Each message sent will be generated from the database, enabling you to address your users by name or create invoices specifying their balance.
Filtering:

Not all customers are the same, and some prefer to receive specific promotions and newsletters while others want something else. Advanced Emailer offers a filtering system to manage which users receive which content. You can enable or disable specific users in the list just before sending. This allows you to temporarily disable users who have opted out of a certain type of communication, and then re-enable them later, avoiding the need to create separate lists for each mailing and reducing maintenance.
Removing duplicates:

It is possible to have multiple entries of the same email address for one customer. To prevent sending multiple messages to the same customer, you need to regularly scan your lists for duplicate emails. Advanced Emailer automates this process, allowing you to remove duplicates with just one button press. It also checks if the other customer information is different in multiple entries and merges them into one complete record.
Scheduled send:

Advanced Emailer allows for scheduled sending of mailings. You can set multiple time intervals for sending and control the times when it occurs. If the schedule turns off sending, you have the option to manually override it to continue or stop it completely.