IDM - Internet Download Manager - The world's most popular download support program, speeds up downloads 5 times faster. License to use unlimited usage time on 1 machine, upgrade for free when there is a new version.
IDM helps you download data 5x faster, can schedule and recover files interrupted by connection loss, network failure, shutdown, or sudden power outage. The simple graphical interface makes users feel friendly and easy to use. IDM has the principle of intelligent download acceleration with flexible data segmentation technology and secure multipart downloads to increase your download speed. Unlike other acceleration and management programs, IDM automatically segments throughout the loading, processing, and reuse of existing connections without the need for additional connection and login stages to achieve the best acceleration performance.
Internet Download Manager supports proxy servers, ftp and HTTP protocols, firewalls, redirects, cookies, authentication, MP3 audio and MPEG video. IDM is compatible with Microsoft Internet Explorer, Netscape, MSN Explorer, AOL, Opera, Mozilla, Mozilla Firefox, Mozilla Firebird, Avant Browser, MyIE2, and all other variable browsers to automatically execute your data download. You can also drag and drop files, or use the Internet Download Manager from the command line. IDM can dial the modem at a predetermined time, load the files you want, then disconnect or even shut down the computer when the job is done.
Other features include multilingual support, file preview, category downloads, professional scheduling, voice signaling for operations, HTTPS support, processing of pending files, HTML help and instructions, enhanced protection against viruses when data downloads are completed, process improvements with large files (useful for connections using access balancing policies or FAPs such as Direcway, Direct PC, Hughes, etc.), and many other functions.
From version 5.17 IDM adds 1 small frame above the media of the website to download flash videos from sites such as YouTube, MySpaceTV and Google Video. The program also fully supports features for Vista, YouTube grabber, scheduling and downloading files from MMS protocol.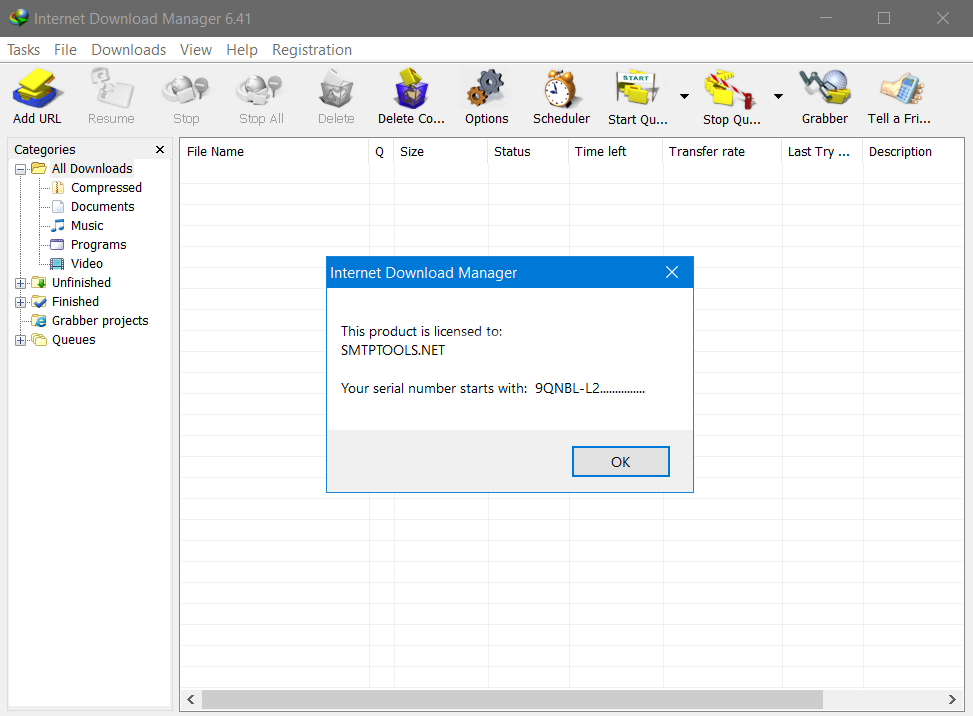 Internet Download Manager - Lifetime
Features:

Supports all the most popular applications and browsers! IDM supports all versions of all browsers today and has compatibility with internet applications of the 3rd generation.
Download with just a single click. When you click on the download link in the browser, IDM will proceed to download the data and speed up this task. IDM supports HTTP, FTP, and HTTPS data transfer methods.
Loading speed. IDM can increase download speed up to 5 times because of the intelligent data splitting technique.
Download recovery. IDM will continue to perform the unfinished download work that you paused earlier.
Simple installer. The quick easy setup program will create the necessary settings for you, and also check your network connection point to avoid problems in the Internet Download Manager settings.
Automatic virus scanning system. This utility keeps your downloaded data away from viruses and Trojans.
Professional browser compatibility. Once activated, the program's features can be used to select and download any data from any application. No other download assistant has this capability.
Schedule the load. IDM can connect to the internet at a set time, download the data you want, disconnect, or shut down as soon as the job is done.
IDM supports many types of proxy servers. For example, IDM can work with Microsoft ISA proxy servers, and FTP servers.
IDM supports the main authentication protocols: Basic, Negotiate, NTLM, and Kerberos. IDM can therefore connect to various Internet server stations and proxies through usernames and ciphers.
Download all file formats. IDM can import all download paths into a single current page. With this feature, it is easy to load multiple data at the same time.
Customize the interface. You can choose the order in which buttons or columns appear in the IDM main window.
Download by theme. Internet Download Manager can be used to automatically sort download data by predefined items.
Automatic updates feature. Quick updates to install the latest versions of IDM, and this work is done weekly.
Download limits. This feature is useful for connections to some forms using common data transfer bandwidth (FAP) such as Direcway, Direct PC, Hughes, … Etc.
Drag and drop. It's as simple as dragging and dropping the link into IDM, and then dragging and dropping the downloaded complete file out of the Internet Download Manager.
Benefits of using a copyrighted IDM

:
Faster, more stable downloads
Unlimited time use
Free updates when new versions are available
No more worrying about the potential dangers in the crack : virus infection, loss of important data, slow machine. . .
SOFTWARE REQUIREMENTS
Operating System : Windows XP, Windows Vista, Windows 7, Windows 8, Windows 10, Windows 11